new york
Family-Based Petition
attorneys
NYC Immigration Lawyers Ready to Help You & Your Family
Don't Wait. Our Firm Is Available for Emergencies 24/7.
As one of the most common forms of obtaining lawful permanent residency, family-based immigration can seem relatively straightforward. Unfortunately, the application process and other steps can be anything but simple.
While families historically obtained favored status under immigration laws in the U.S., it can still be challenging to obtain entry. The Immigration and Nationality Act does allow for close relatives of U.S. citizens and legal permanent residents to immigrate to the U.S. if their petition is approved. How quickly this happens can depend on a number of factors, such as the status of the sponsor, the country the family member is located in, and whether or not they are an immediate family member.
Immediate Relatives vs. Other Relatives
If the person seeking entry is an immediate relative, the petitioner must be a U.S. citizen.
Eligible family members include:
If a family member doesn't fall into this category, they will face serious time restrictions and number limitations. It is also important to understand that there are different preference categories. For example, first preference would go to unmarried children of a U.S. citizen, while spouses and children of lawful permanent residents would get second preference. Third preference is given to married children of U.S. citizens, with the waiting period being over seven years for most countries (except for Mexico and the Philippines). Lastly, fourth preference is given to siblings of U.S. citizens, with nearly a 12-year delay for all countries.
Those who are immediate relatives of a petitioner who is a citizen, not a legal private resident, have advantages over the preference categories mentioned.
After years of being told that he has no options, Tsigler Law quickly and successfully led our client to a clear path forward for a green card. Our client had an unjust criminal conviction combined with an unlawful entry into the United States. The team at Tsigler Law fought hard to ensure our client was able to remain in the United States and take care of his family.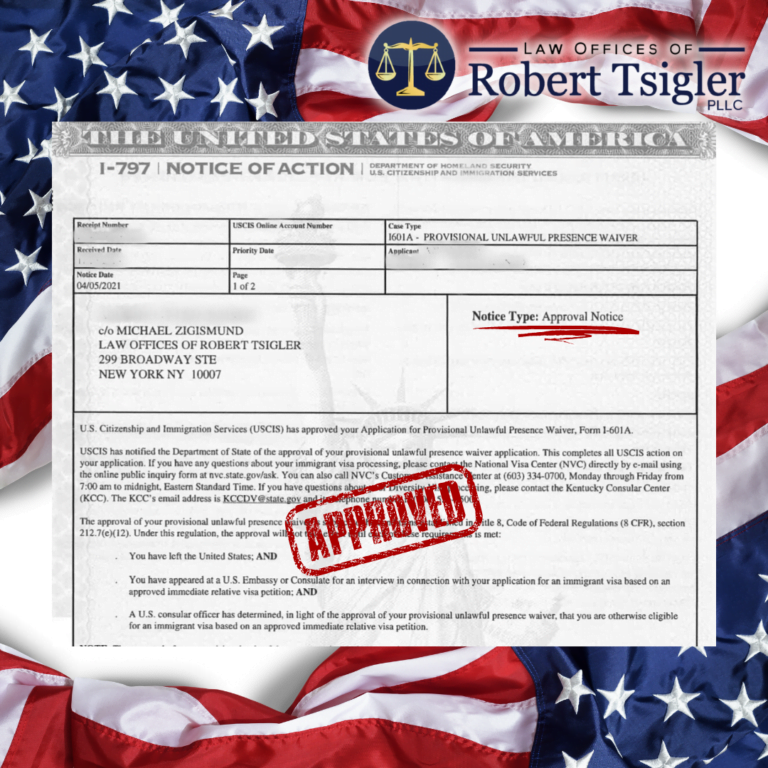 We Set the Bar Others Strive to Reach
The Imigration Law firm of Robert Tsigler, PLLC is Ready to Fight for You!
Getting representation as soon as possible following any Imigration -related charge is the best way to promote a positive result from a subsequent trial. These charges are considered very serious and can result in expensive fines, the loss of driving privileges or professional licenses, and even incarceration. Only an experienced New York Imigration lawyer can successfully defend your case.
Schedule an initial consultation to
discuss your case right away.