New York
Naturalization
Attorneys
Navigating Citizenship in the United States
Don't Wait. Our Naturalization Lawyers Are Available 24/7 for Emergencies.
The process of becoming a citizen of the United States of America can be long and involved, with many complications along the way. While most individuals must apply for the correct visa or another form of authorized documentation before applying for citizenship, others might already be eligible to apply for citizenship.
With years of experience and thousands of clients helped, the New York immigration attorney team at the Law Offices of Robert Tsigler, PLLC can help you navigate your circumstances. With 24/7 availability and free case evaluations, our team is committed to client convenience.
To learn more about your options, contact our firm today!
Eligibility for Naturalization
If you are not eligible for citizenship by birth, you can apply for citizenship through a process of naturalization. There are many factors that determine whether or not you are eligible for this process.
Basic requirements for an adult can include:
Born in the U.S.? You May Already be a Citizen by Birth
If you have at least one parent who was a U.S. citizen, you may have a right to citizenship and not need to complete the naturalization process. If your parents were legally married and at least one of them lived in the U.S. for a constant period before you were born, you may want to explore whether you are eligible for citizenship. An experienced lawyer from our firm can help you investigate your options.
For creative solutions to your legal problems, don't hesitate to call our New York immigration attorneys.
After years of being told that he has no options, Tsigler Law quickly and successfully led our client to a clear path forward for a green card. Our client had an unjust criminal conviction combined with an unlawful entry into the United States. The team at Tsigler Law fought hard to ensure our client was able to remain in the United States and take care of his family.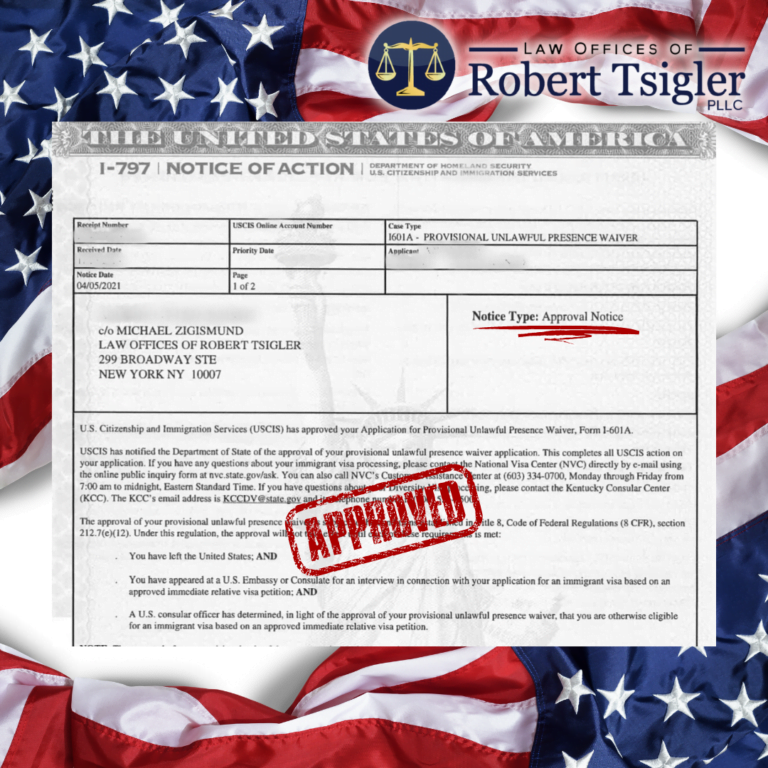 The Naturalization Law firm of Robert Tsigler, PLLC is Ready to Fight for You!
Getting representation as soon as possible following any Naturalization -related charge is the best way to promote a positive result from a subsequent trial. These charges are considered very serious and can result in expensive fines, the loss of driving privileges or professional licenses, and even incarceration. Only an experienced New York Naturalization lawyer can successfully defend your case.
Schedule an initial consultation to
discuss your case right away.