new york
Immigration Attorneys
Serving Clients around the World – Call Today
The United States welcomes thousands of new immigrants in various legal categories each and every year. Many seek out life in the United States because of the viability of the economy and the ability to pursue gainful employment. Others come to study or to escape from the immense hardships of life in other corners of the world.
Our New York immigration attorney offers the following services for immigrants and their families:
Coming to the United States
Those who come from abroad and wish to reside in the United States may qualify to legally stay in the United States if they can prove their ability to legitimately meet the criteria of one seeking asylum or by applying via a family-based petition.
Asylum is a right granted to those who suffer persecution based on their race, ethnicity, religion, social membership, or political opinion in their country of origin. Applicants who meet these criteria must file a Form I-589 to be approved by the USCIS.
The U.S. Department of State also allows for immediate relatives of citizens, including spouses, unmarried minor children, children adopted abroad, and parents of a citizen to live in the United States after filing and the approval of a family-based petition. The Department of Immigration also allows a specific number of family preference visas each year.
After years of being told that he has no options, Tsigler Law quickly and successfully led our client to a clear path forward for a green card. Our client had an unjust criminal conviction combined with an unlawful entry into the United States. The team at Tsigler Law fought hard to ensure our client was able to remain in the United States and take care of his family.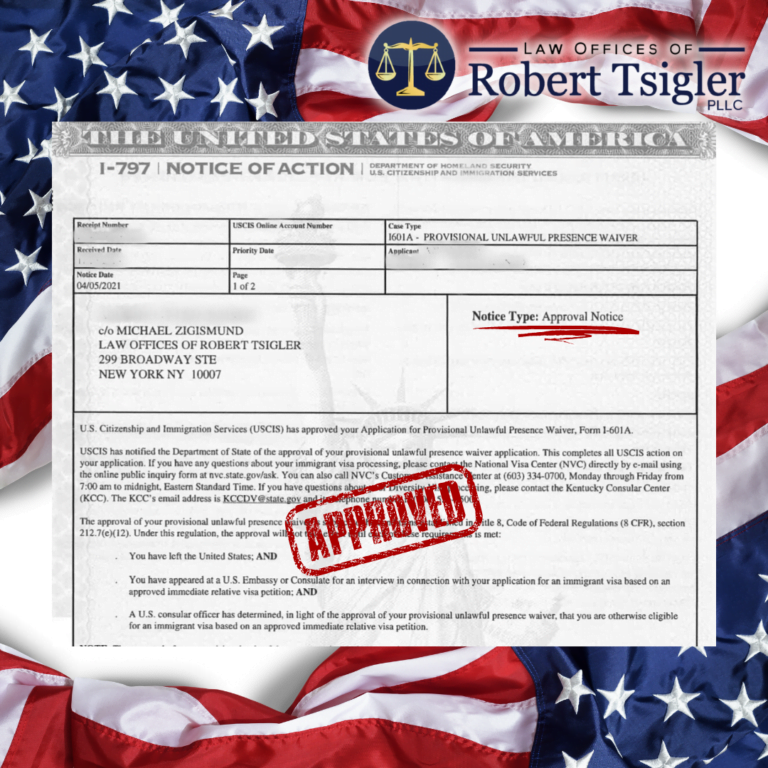 Our New York immigration attorney can help. Our knowledgeable staff can assist you with securing the result you need and we are available 24 hours a day, 7 days a week to answer your questions and concerns.
We want to
hear your
Story.
Schedule an initial consultation to
discuss your case right away.