Don't Wait. Our Firm Is Available 24/7 for Emergencies.
Asylum is a right granted to those who suffer persecution based on their race, ethnicity, religion, social membership, or political opinion in their country of origin. Applicants who meet these criteria must file a Form I-589 to be approved by the USCIS.
If you are seeking asylum in the U.S., it can be a complicated and confusing process. The New York immigration attorneys at the Law Offices of Robert Tsigler, PLLC provide compassionate, thorough, and skillful guidance through this process. Whether you are seeking asylum from Turkey, Syria, or any other country across the globe, our firm is equipped to assist you each step of the way.
Do I Really Need Legal Representation?
While you may be wondering whether or not you truly need a lawyer, now is an extremely crucial time and requires the counsel and experience of a proven legal professional. Attorney Tsigler is passionate about helping clients obtain positive results. As an asylum applicant, you want to ensure that you are thoroughly prepared for the asylum interview and have submitted all necessary documentation and paperwork.
You can retain an immigration lawyer to help:
In addition, an attorney can help you complete the next steps should you be granted asylum in the U.S. From basic assistance with documentation to prepare for your interview to attentive counsel and guidance on any changes to immigration laws, a legal advocate can be invaluable during this time.
Client was granted Asylum and received a Green Card in the United States based on a fear of future persecution in their home country


Dismissed
After years of being told that he has no options, Tsigler Law quickly and successfully led our client to a clear path forward for a green card. Our client had an unjust criminal conviction combined with an unlawful entry into the United States. The team at Tsigler Law fought hard to ensure our client was able to remain in the United States and take care of his family.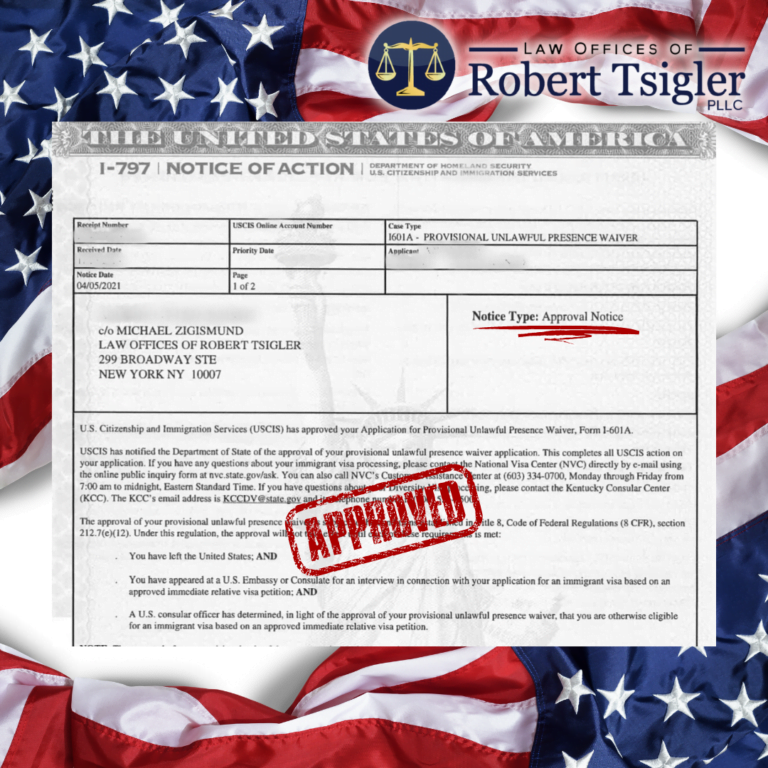 We Set the Bar Others Strive to Reach
The Asylum Law firm of Robert Tsigler, PLLC is Ready to Fight for You!
Getting representation as soon as possible following any Asylum-related charge is the best way to promote a positive result from a subsequent trial. These charges are considered very serious and can result in expensive fines, the loss of driving privileges or professional licenses, and even incarceration. Only an experienced New York Asylum lawyer can successfully defend your case.
Schedule an initial consultation to
discuss your case right away.