Manhattan Business
Divorce Attorney
Manhattan Business Divorce Lawyer
Business partners in Manhattan, NY can decide for many reasons that they cannot or should not continue as partners. When this happens, the partners need to get a business divorce, which uses certain legal options to split a business, buy out a partner, or otherwise find a fair solution to end the business partners' professional relationship. A fair business divorce can be achieved more quickly and easily with the help of a qualified Manhattan business divorce attorney.
Disagreements between business partners are not the only reason business divorces must occur. One party may simply wish to move on to other things or retire, one party may have been involved in criminal activity, or parties have mutually agreed to dissolve their business partnership.
Business divorces can be managed efficiently but can also be exceptionally complex. Business lawyers are especially useful when business partners are spouses, family, or friends and want to maintain their relationship through this complicated process.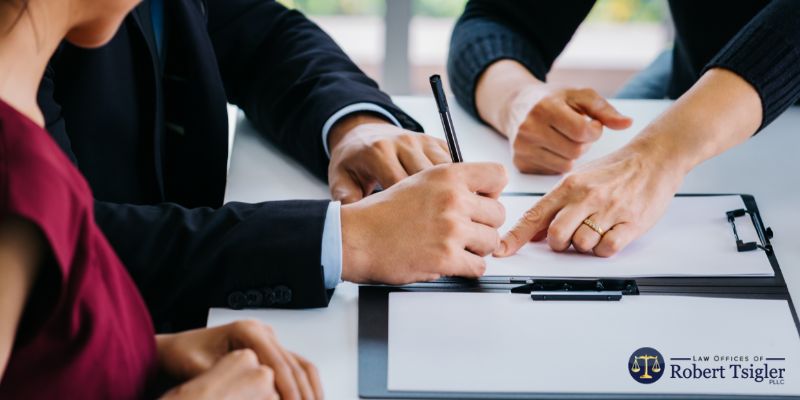 Finding the Right Business Divorce Attorney
There are multiple legal options for business partners pursuing a business divorce, depending on the needs of the business and the wishes of the partners. The business attorneys at the Law Offices of Robert Tsigler, PLLC, have been reliable legal counsel for businesses and business divorces for many years.
We work to limit the publicity, stress, and cost of business divorce and to use our intricate knowledge of state and local business law to help you obtain a favorable outcome for your business and your relationships.
In most cases, we find that the most effective way to reach an agreement for a business divorce is through mediation or negotiation outside of court. This gives parties more control and keeps discussions and business details more private. It also lowers the costs of the process.
Our business attorneys can take the time to understand the intricacies of your business, your partnership, and your needs. We work hard to find an optimized solution to an amicable or contentious business divorce.
Understanding Business Divorces
A business divorce is the legal term for the division or dissolution of the joint partnership of two or more business owners. Often, business partners want the business to continue either under new management or ownership or to be restructured and owned by one of the business partners.
It can be complicated to sort out these issues, and it can be harder when it is a time-sensitive issue or one business partner must be removed against their will. There are many reasons for a business divorce, including:
A business attorney has the experience and resources needed to properly value assets, restructure the business, and negotiate a fair agreement between business partners.
Mediation in a Business Divorce
Like marital divorce mediation, business divorce mediation is where an attorney works with both parties to find compromises so an agreement can be reached. Depending on the unique circumstances of your business divorce, there are multiple ways that a successful agreement could be found.
Parties may be able to negotiate a buy-sell business agreement at any point in their professional relationship. This could help partners determine how business assets are split or how an exiting business partner will be compensated for their ownership in the business. These agreements can help maintain the friendship or amicable relationship between business partners when done well.
Business Divorce Law FAQs:
Q: How Much Does a Business Divorce Attorney Cost in New York City?
A: The average cost of a business attorney in New York is anywhere from $150 to $600 an hour, but their costs depend on many factors. A business divorce case may be more expensive the more complex it is. When partners are willing to compromise through mediation, this will likely take up less of the attorney's time and resources than a contentious business dispute would.
Attorney costs also depend on the firm's specific policies, the experience of an attorney, and the firm's location. A firm located in New York City is likely to charge higher rates than an attorney located rurally.
Q: What Is a Business Divorce?
A: A business divorce is not so different from a marital divorce. In both cases, two partners decide they need to end their relationship and go through the negotiation and legal processes necessary to do so. However, while marital divorces happen between spouses, business divorces happen between business partners. One partner may need or want to withdraw from the business, or another partner may want to buy them out of their share. In any case, the business partners will no longer do business together.
Q: Why Would I Need a Business Divorce?
A: There are a large range of reasons that you might need to get a business divorce. You could be in a heated dispute with your business partner in which you disagree about how to run things or feel you are being treated unfairly. In other, more amicable cases, one partner might want to withdraw from the business or retire. There might even be situations where one partner dies or steals money from the business.
Q: Do I Need a Business Divorce Lawyer in New York?
A: A business divorce lawyer can save you time, stress, and money in your divorce. They can also help you and your business partner reach a fair solution outside of court. If your business divorce must be resolved in court, your attorney can present your needs and side of the divorce to the court and advocate for your interests.
Work With the Law Offices of Robert Tsigler, PLLC
The qualified business attorneys at the Law Offices of Robert Tsigler, PLLC, can help you and your business partner work out your business divorce in Manhattan. We can help you negotiate a business agreement or find another legal route to dissolve or restructure your business partnership. Contact our team.
Married 25 years, husband files for divorce due to wife's adultery. We conducted a forensic investigation into the wife's assets & discovered she used marital funds to secretly purchase property in the Caribbean. The property was incorporated into the settlement agreement in favor of the husband.
Settlement Awarded to Client
The Divorce Law firm of Robert Tsigler, PLLC is Ready to Fight for You!
Getting representation as soon as possible following any Divorce-related charge is the best way to promote a positive result from a subsequent trial. Only an experienced Manhattan Business Divorce lawyer can successfully defend your case.
Schedule an initial consultation to
discuss your case right away.