Manhattan LGBTQ
Divorce Lawyer
Manhattan LGBTQ Divorce Attorney
The decision to get a divorce is rarely easy, but it is not the last difficult decision in the process. For many couples, getting a divorce is the right choice for their family and their relationship, but divorce proceedings can be long and challenging. This is true of any divorce, including same-sex divorces. 
Many complex aspects of an LGBTQ divorce are the same as an opposite-sex divorce, such as awarding spousal support, determining the division of property, and outlining a parenting plan if the couple has children. Like a heterosexual divorce, a same-sex divorce can be settled through a more cooperative process like mediation or a contentious court battle, which can make the divorce more expensive and stressful. However, there are some additional complications when an LGBTQ couple divorces, such as determining the date of marriage and how that impacts property division. There are also unique issues that arise when determining child custody and visitation. Managing these complexities is easier when you work with a family lawyer who is experienced in same-sex marriages and how New York law impacts your family.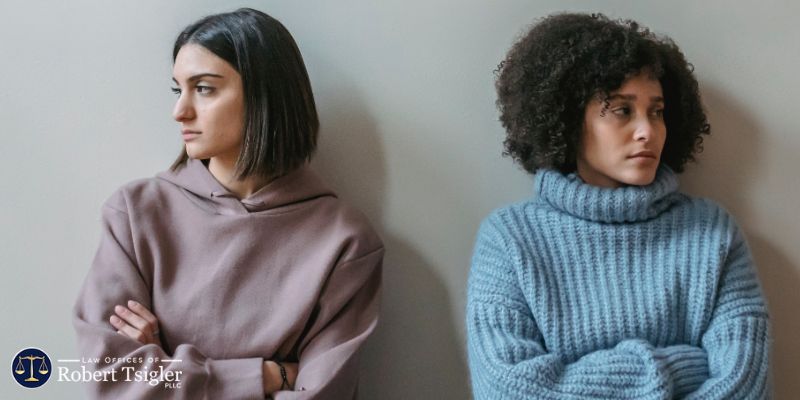 Manhattan Divorce Attorneys for LGBTQ Spouses
A family law and divorce attorney needs to have sensitivity and compassion to help an LGBTQ couple manage their divorce and protect their family. At the Law Offices of Robert Tsigler, PLLC, our attorneys understand the emotional and legal complications of a same-sex divorce. We have helped many gay and lesbian couples in Manhattan and the surrounding communities find the right resolution for their needs and their family's interests. Our attorneys have worked for years in family law and know how local laws impact LGBTQ spouses, their property division, and custody determinations. We believe strongly in treating all our clients with immense respect and care. Let us help you protect your rights during the divorce process.
Property Rights and Date of Marriage for LGBTQ Divorces
In any divorce in Manhattan, a couple's marital assets and debts have to be divided. If the couple must go through litigation, this marital property is divided according to equitable distribution laws. The court will review several factors about the couple's marriage to determine what is a fair split of assets, which is not necessarily an equal split. If the couple is obtaining an uncontested divorce, they can determine the division of assets in their separation agreement, and the court will approve it unless it is particularly unfair or unconscionable to one spouse.
Marital property includes any assets and debts acquired from the date of a couple's marriage to the date of their separation. In a heterosexual divorce, the date of marriage is fairly straightforward. However, in a same-sex divorce, this can be more complicated. Because marriage equality is a more recent development, many LGBTQ couples have been in a relationship and acted as a married couple for many years before their legal marriage.
Child Custody Rights in an LGBTQ Divorce
When any divorcing couple has children, they have to determine a parenting plan, which includes child custody and visitation rights. In a heterosexual marriage, it's common that both parents are the legal and/or biological parents of the child, giving them equal rights to custody.
However, in a same-sex marriage, there can be a number of different scenarios that can complicate parental rights. Same-sex couples may be parents by adopting a child, having a surrogate parent, using donor cells, or other methods. If one parent is the biological parent of the child, and the other parent didn't take steps to establish paternity or adopt the child, they may not have equal parental rights to a child. It's essential to work with an attorney to protect parental rights during a divorce.
Q: How Much Does a Divorce Lawyer Cost in New York City?
A: The average cost of a family law attorney in New York is $359 an hour, but this can vary based on several factors. Divorce is often one of the more expensive aspects of family law because it entails multiple aspects of family law. The factors that influence an attorney's cost include:
Certain divorce attorneys will charge a retainer fee upfront, which reserves their legal services for a period of time. You should always discuss fee structures and pricing with an attorney prior to hiring them.
Q: How Much Does a Mutual Divorce Cost in New York City?
A: An uncontested divorce is a divorce where both parties agree on the main aspects of a separation agreement, including property division and child custody, or are willing to work together and negotiate those aspects of divorce. A contested divorce that is settled in trial will be more expensive than a mediated, uncontested divorce. An uncontested divorce may only cost a few hundred dollars in filing fees, but it will be more expensive if you hire an attorney. However, an attorney can save you time and stress by mediating an uncontested divorce and ensuring that everything is handled properly.
Q: Does a Wife Have to Pay for Her Wife's Divorce Lawyer in New York?
A: In any divorce in New York, including same-sex divorces, each party is typically responsible for their own legal fees. However, there are situations where a spouse is responsible for their spouse's reasonable attorney fees. If one spouse has significantly more assets and resources than the other spouse, the court may order the wealthier spouse to pay for a portion of or all their spouse's legal fees.
Q: Do I Need a Divorce Lawyer in Manhattan, NY?
A: Legal representation isn't required to file for a divorce in New York, but it can make the process more efficient, less stressful, and more effective at protecting you and your family's interests. If your divorce has any challenging aspects, such as high-value assets, uncertainty about the date of marriage, or custody determinations, an attorney is very helpful in managing these issues according to state and local laws. An attorney can handle legal deadlines and requirements. They can also mediate discussions between spouses to find the most beneficial outcome for your divorce.
Contact the Law Offices of Robert Tsigler, PLLC
LGBTQ couples face all the usual legal and emotional complications associated with a divorce in addition to unique issues due to laws that have yet to catch up. Working with an experienced attorney can make this process a little smoother. Contact the Law Offices of Robert Tsigler, PLLC, today to learn how we can help with your divorce.
Married 25 years, husband files for divorce due to wife's adultery. We conducted a forensic investigation into the wife's assets & discovered she used marital funds to secretly purchase property in the Caribbean. The property was incorporated into the settlement agreement in favor of the husband.
Settlement Awarded to Client
The Divorce Law firm of Robert Tsigler, PLLC is Ready to Fight for You!
Getting representation as soon as possible following any Divorce-related charge is the best way to promote a positive result from a subsequent trial. Only an experienced Manhattan LGBTQ Divorce lawyer can successfully defend your case.
Schedule an initial consultation to
discuss your case right away.