New York
Deportation Defense
Lawyers
Deportation Defense Attorneys
Don't Wait. Our Firm Is Available for Emergencies 24/7.
Deportation can be a very real fear for many non-citizens living in the United States. It's often surprising what kind of infractions and minor convictions can trigger deportation proceedings in New York City. If you or a loved one face deportation for violation of the immigration laws, you need a criminal defense attorney who specializes in handling deportation cases. This unique branch of criminal law requires careful attention to detail and in-depth knowledge of the nation's immigration regulations.
It's not uncommon for people facing deportation to sign plea agreements out of desperation before speaking to an attorney. This can have devastating consequences for you and your family. It's vital to connect with an experienced deportation defense lawyer as soon as possible once deportation is on the table.
Don't wait to get proven immigration defense and aggressive advocacy. Call today!
Why Choose the Law Offices of Robert Tsigler, PLLC?
At the Law Offices of Robert Tsigler, PLLC, we have handled thousands of cases successfully for New York City residents. If you need reliable and experienced legal counsel for deportation defense in NYC, our firm is here to help.
The attorneys at the Law Offices of Robert Tsigler, PLLC have an impressive track record of winning results, and our team can provide legal counsel in five different languages. We have served a diverse range of clients over the years and offer initial consultations to potential new clients. Our criminal defense lawyers are available 24 hours a day, seven days a week, to answer our clients' questions and provide the most robust defense representation possible.
If you need a deportation defense lawyer in NYC, the Law Offices of Robert Tsigler, PLLC can quickly and thoroughly evaluate your case and help you explore all the available possible alternatives to deportation in your case.
How Do Deportation Proceedings Start?
The criminal codes of the United States have separate provisions that deal exclusively with non-citizens. Generally, committing a crime in the United States as a non-US citizen could result in deportation to one's home country, regardless of the initial reason why they visited or moved to the U.S. Due to the way the criminal codes work for non-citizens living in the U.S., it's possible for a minor infraction or conviction from years ago to suddenly trigger deportation proceedings.
Once deportation proceedings begin, the harsh reality is that a non-citizen who commits a crime may receive a much harsher immigration penalty than criminal penalty. For example, a criminal conviction that would typically result in probation may lead to immigration consequences such as indefinite mandatory detention in immigration custody or full removal to your designated home country, even if you have held a green card for years.
Some people facing deportation may qualify for relief from removal, but this may not be an option for everyone. This is why it is so crucial to find legal counsel for deportation defense. If you or a loved one were recently served with a Notice to Appear in immigration court for removal proceedings, it's essential to connect with an experienced deportation defense attorney as soon as possible.
Which Crimes May Lead to Deportation?
Many people are surprised at what can lead them to deportation. A past offense could potentially make its way through the red tape of the US criminal justice system and eventually evolve into deportation proceedings much later. Some of the offenses that could potentially trigger deportation and removal proceedings include:
It's possible you may have been convicted of one of these crimes in the past without triggering deportation proceedings. However, there are so many automated systems at work in the NYC justice system that a past offense may take quite a long time before it triggers deportation proceedings.
How to Defend Against Deportation
Ultimately, it falls to the immigration judge in your case to determine whether you can stay in the United States if your case does not qualify you for relief from removal. Even if it does and your attorney helps you apply for deportation relief, this is no guarantee that it will be approved.
Typically, an immigration judge will carefully review your background and look at several factors, such as your work and tax payment history, your known relatives in the United States, and the length of time you have spent living in this country. They will also evaluate the severity of the criminal charges that triggered your deportation proceedings. Your attorney will help you craft a compelling argument that explains your position within your family and your local community, the degree to which your loved ones in the US depend on you, and the extent of the rehabilitation you have already completed, if applicable.
If the immigration judge is convinced by your argument, you could receive approval for a waiver of deportation and be allowed to remain in the United States. When this occurs, the U.S. Immigration and Customs Enforcement may appeal the decision if they believe they have evidence that you do not qualify to remain in the US, just as you may appeal the court's decision if you lose. It is very rare for deportation proceedings to end without several appeals, various official motions, and ultimately wind up in federal court litigation.
Hire Dependable Legal Counsel for Your Deportation Defenses
Deportation is a very serious issue for many non-citizen residents of the US, and it's vital to seek the right kind of legal representation for your deportation defense. An experienced deportation defense attorney will know the applicable immigration regulations and how they apply to your case, and they will also know the best strategies for crafting a solid argument against your deportation. The Law Offices of Robert Tsigler, PPLC are here to help. Contact us as soon as possible if you are facing deportation proceedings in NYC to schedule a consultation with one of the most experienced deportation defense attorneys in New York City.
Client, a green card holder, was put into deportation proceedings due to an attempted murder conviction from 20 years ago


Criminal conviction vacated. Deportation terminated.
After years of being told that he has no options, Tsigler Law quickly and successfully led our client to a clear path forward for a green card. Our client had an unjust criminal conviction combined with an unlawful entry into the United States. The team at Tsigler Law fought hard to ensure our client was able to remain in the United States and take care of his family.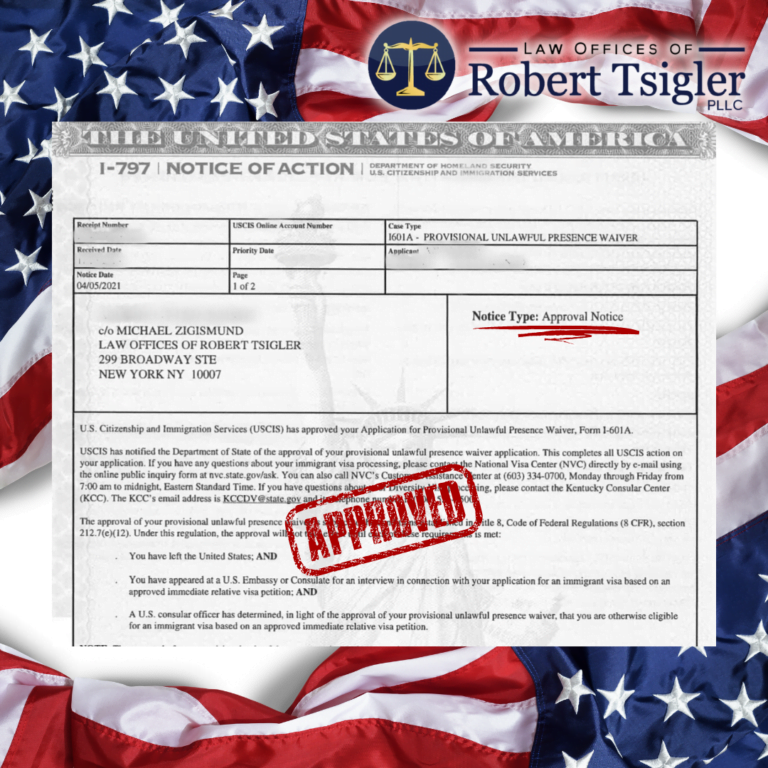 We Set the Bar Others Strive to Reach
The Deportation Law firm of Robert Tsigler, PLLC is Ready to Fight for You!
Getting representation as soon as possible following any Deportation -related charge is the best way to promote a positive result from a subsequent trial. These charges are considered very serious and can result in expensive fines, the loss of driving privileges or professional licenses, and even incarceration. Only an experienced New York Deportation lawyer can successfully defend your case.
Schedule an initial consultation to
discuss your case right away.