At the Law Offices of Robert Tsigler, PLCC, we provide comprehensive legal services for all matters related to divorce and family law in Queens, NY. Our team of experienced family attorneys handles a wide range of family law cases, including child custody, support, property division, and asset division.
We understand that family law matters can be emotionally challenging. Our firm is committed to providing compassionate and effective legal representation to our clients. Our Queens divorce attorneys are highly knowledgeable and have extensive experience handling complex divorce cases. We can handle situations ranging from an uncontested divorce to a contested divorce involving significant assets.
Our team is familiar with the Queens family court system. We have a proven history of success in advocating for our clients' rights and interests in child custody, child support, and property division cases. We recognize that each case is unique. Our attorneys work closely with our clients to develop tailored strategies that align with their goals and objectives.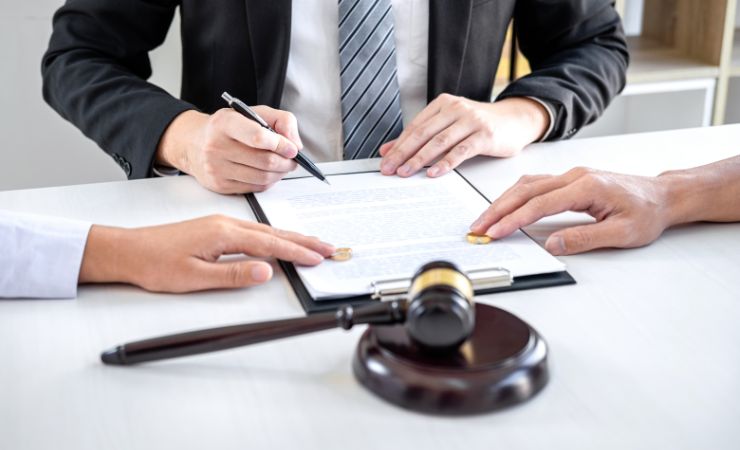 Grounds for Divorce in New York State
In New York State, there are both fault-based and no-fault grounds for divorce. The grounds for divorce are the reasons that the court will recognize as valid for granting a divorce. Here are the grounds for divorce in New York State:
If you are considering filing for divorce in Queens, it is important to work with an experienced Queens divorce attorney. They can help you be sure of your options and rights.
Uncontested vs. Contested Divorce Cases in Queens
Divorces in Queens, New York, can be either uncontested or disputed. Each kind of case has its own distinctive features.
An uncontested divorce is one in which all the arrangements have been agreed upon by both parties, including:
For both parties, this divorce process is typically less expensive, quicker, and less distressing. Uncontested divorces are typically the ideal option for couples that are willing to compromise and want an amicable split.
A contested divorce, on the other hand, occurs when either or both parties cannot agree on the terms of the divorce. These situations are frequently more emotional and difficult, and they take longer to resolve. Conflicts in contested divorces occasionally need to be resolved through litigation, which can be more expensive and time-consuming.
How We Handle NY Contested Divorce Cases
Our experienced attorneys are dedicated to providing our clients with compassionate and effective legal representation. We work to help them achieve their desired outcome. Here is an overview of how we handle New York contested divorce cases:
At the Law Offices of Robert Tsigler, PLCC, we understand that each contested divorce case is unique. That is why we are committed to providing our clients with individualized attention and support throughout the legal process.
Dividing Assets in a Queens, New York, Divorce
In a divorce in Queens, New York, all marital property is subject to equitable distribution. This means that all assets acquired during the marriage, regardless of who paid for them, are subject to division.
Marital property can include:
When the court divides a couple's assets in an equitable distribution, it does so in a way that is fair and reasonable but not necessarily equal. When making its decision, the court will consider elements such as:
It is vital to remember that some forms of property may not be subject to equitable distribution, including:
401(k)s and Divorce in New York
In New York, 401(k) plans are considered marital property and are subject to equitable distribution in a divorce. When dividing a 401(k) plan in a divorce, the court will generally issue a qualified domestic relations order (QDRO). This is a legal document that allows for the transfer of a portion of the 401(k) plan to the other spouse. The QDRO specifies the percentage or dollar amount that will be transferred and how it will be divided between the spouses.
It is important to note that any distributions from a 401(k) plan are subject to federal taxes and penalties if the distribution is made before the age of 59 1/2. However, if a QDRO is used to transfer the funds to the other spouse, the transfer can be made without triggering taxes or penalties.
Queens, NY, Child Support and Custody
Child support and custody are two of the most important issues that parents must address during a divorce in Queens, New York.
Our attorneys at the Law Offices of Robert Tsigler, PLCC, have extensive experience representing clients in child support and custody cases in Queens. We can help you achieve the most ideal outcome in your case.
Settling Queens, NY, Divorces Outside of Court
Settling a divorce outside of court can be cost-effective and efficient. This can resolve issues related to property division, child custody, and support without the need for litigation. In Queens, New York, there are several methods available for settling a divorce outside of court, including:
Settling a divorce outside of court can have many benefits. These include lower costs, less stress and conflict, and greater control over the outcome. It is important to work with an experienced divorce attorney who can help you explore your options. They can guide you through the process of reaching a settlement agreement.
Q: How much does a divorce lawyer cost in New York?
A: Most divorce lawyers in New York typically bill their clients on an hourly basis. Depending on the attorney's reputation and experience, hourly costs can range from $200 to $1,000 or more. For uncontested divorces or specific sorts of legal services, some attorneys may also provide flat-fee arrangements. The overall expense of a divorce case will depend on the particulars of the case and how long it takes to conclude.
Q: Who pays lawyer fees in a divorce in New York?
A: Unless the court orders otherwise, each party in a divorce proceeding in New York is responsible for covering their own legal costs. However, in specific circumstances, the court may demand that one party pay for all or a portion of the opposing party's legal expenses. This may occur if the court decides that it would be fair and reasonable for one spouse to pay for the other spouse's legal bills. This can be due to that spouse's much higher income or greater access to financial resources than the other spouse.
Q: What is a wife entitled to in a divorce in New York?
A: Under New York law, both spouses are entitled to an equitable distribution of the marital estate in a divorce. This means that, regardless of who paid for any property acquired during the marriage, it is regarded as marital property and is susceptible to distribution. In a New York divorce, some examples of what a wife may be entitled to include:
Q: Do I really need to hire a New York divorce attorney?
A: You are not required by law to hire a New York divorce attorney to represent you in your divorce case. However, it is highly recommended that you do so. A New York attorney can:
Let Us Help You Fight for the Rights of Your Children and Your Family
At the Law Offices of Robert Tsigler, PLCC, we work diligently to protect your rights throughout the legal process. Whether you are facing a divorce or any other family law issue, our team is here to provide the guidance and support you need to navigate the legal system successfully. Contact us today to schedule a consultation with one of our Queens family attorneys. Let us help you find a solution that works for you and your family.
Married 25 years, husband files for divorce due to wife's adultery. We conducted a forensic investigation into the wife's assets & discovered she used marital funds to secretly purchase property in the Caribbean. The property was incorporated into the settlement agreement in favor of the husband.
Settlement Awarded to Client
The Divorce Law firm of Robert Tsigler, PLLC is Ready to Fight for You!
Getting representation as soon as possible following any Divorce-related charge is the best way to promote a positive result from a subsequent trial. Only an experienced Queens Divorce lawyer can successfully defend your case.
Schedule an initial consultation to
discuss your case right away.